Program Aims
As of June 2023
Identify immunotherapeutic-based approaches for the treatment of cancer and develop strategies to suppress unwanted off-target effects
A major focus of DDT is to conduct basic science research designed to uncover novel mechanistic insights that further our understanding of how the immune system can be harnessed to eliminate cancer, and to bring novel immunotherapeutic approaches into the clinic to address cancers that affect patients in the catchment area. Since these therapies are often associated with adverse effects due to activation of immune cell populations, another goal is to develop translatable strategies that will attenuate systemic and organ-specific immunological complications.
Employ novel imaging and radiotherapy strategies to optimize treatment of cancer and minimize therapeutic toxicity
DDT Program members explore innovative cancer imaging approaches to characterize the extent of tumor involvement more accurately and to assess the degree of therapeutic response to chemo, radiation and immune-based therapy. Members also seek to reduce toxicity from therapy by the real-time sequential modification of radiation fields and chemo through practice-changing computational modeling.
Discover novel therapeutic targets that drive cancer initiation and progression
A major area of research focus is the identification of resistance pathways that allow cancer cells to overcome sensitivity to hormonal, small molecule, and chemotherapeutic agents. Program members seek to leverage knowledge of these resistance mechanisms to uncover vulnerabilities that can be exploited for development of innovative translational therapies. A precision oncology and rare cancers program instituted in 2022, with the goal of offering individualized cancer therapy based on the unique genetic and epigenetic molecular signatures within specific cancers, is catalyzing DDT's translational and clinical research.
Program Leaders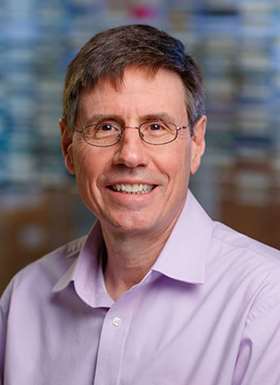 William R. Drobyski, MD
Mariette C. and Philip W. Orth/Tom Anderson Chair of Oncology; Professor, Medicine (Hematology/Oncology), Pediatrics, Microbiology & Immunology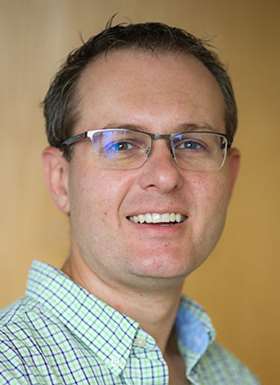 Todd Miller, PhD
Professor of Pharmacology & Toxicology and Pathology
Sameem Abedin, MD
Muhammad Bilal Abid, MD
Juliana Alvarez Argote, MD
Ehab L. Atallah, MD
Musaddiq J. Awan, MD
Lisa M. Baumann Kreuziger, MD
Joel H. Blumin, MD
Joseph A. Bovi, MD
William H. Bradley, MD
Ruta Brazauskas, PhD
Ulrich Broeckel, MD
Michael James Burke, MD
Kathryn A. Bylow, MD
Karen-Sue B. Carlson, MD, PhD
John A. Charlson, MD
Lubna N. Chaudhary, MD
Hui-Zi Chen, MD, PhD
Xiao Chen, MD, PhD
Xiaojian Chen, PhD
Yiliang Chen, PhD
Jennifer M. Connelly, MD
Navonil De Sarkar, PhD
Michael W. Deininger, MD, PhD
Binod Dhakal, MD
William R. Drobyski, MD
Beth A. Erickson, MD
Douglas B. Evans, MD
Timothy Fenske, MD
Patrick C. Foy, MD
Thomas Clark Gamblin, MD
Ben George, MD

Elizabeth M. Gore, MD
Guru Subramanian Guru Murthy, MD
William Adrian Hall, MD
Mehdi H. Hamadani, MD
Paul D. Harker-Murray, MD, PhD
Peiman Hematti, MD
Heather A. Himburg, PhD
El-Sayed H. Ibrahim, PhD
Kenneth A. Iczkowski, MD
Jason Jarzembowski, MD, PhD
Bryon D. Johnson, PhD
Amit Joshi, PhD
Mandana Kamgar, MD
Tyce J. Kearl, MD, PhD
Deepak Kilari, MD
Soyoung Kim, PhD
Kevin M. Koch, PhD
Matthew Kudek, MD
Razelle Kurzrock, MD
Peter Langenstroer, MD
Peter LaViolette, PhD
Colleen A. Lawton, MD
Emily A. Lemke, DNP
David A. Margolis, MD
Michael Martens, PhD
Jeffrey A. Medin, PhD
Laura Michaelis, MD
Meera Mohan, MD
Edward Kelly S. Mrachek, MD
Andrew S. Nencka, PhD
Marcelo C. Pasquini, MD, MS

Eric Paulson, PhD
Jing Qi, MD, PhD
Sabarinath Venniyil Radhakrishnan, MD
Honey Reddi, PhD
Lyndsey Runaas, MD
Nathan Schloemer, MD
Kathleen M. Schmainda, PhD
Cindy L. Schwartz, MD, MPH
Nirav N. Shah, MD
Peter H. Shaw, MD
Aditya Shreenivas, MD
Brian C. Smith, PhD
Amanda Smolock, MD, PhD
Rodney Sparapani, PhD
Julie-An M. Talano, MD
Ryuma Tanaka, MD
Sergey S. Tarima, PhD
James P. Thomas, MD, PhD
Jonathan R Thompson, MD
Richard L. Tower, MD
Susan Tsai, MD
Bo Wang, PhD
Sarah B. White, MD, MS, FSIR, FCIRSE
Calvin B. Williams, MD, PhD
Stuart J. Wong, MD
Yongxia Wu, PhD
Xue-Zhong Yu, MD
Anthony E. Zamora, PhD
Joseph Zenga, MD
Mei-Jie Zhang, PhD
Hualiang Zhong, PhD