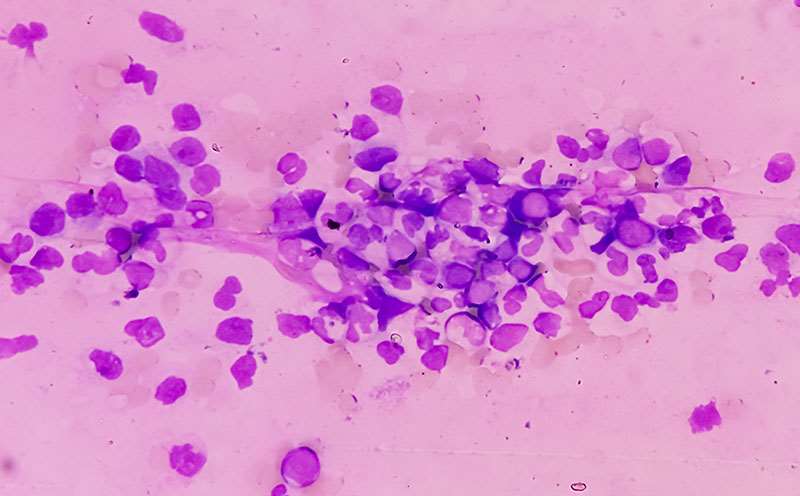 Although B-cell acute lymphocytic leukemia (ALL) is highly curable, a large percentage of younger patients do not respond to standard therapies. Currently, there is little information about survival in pediatric patients who do not respond or relapse after tisagenlecleucel, a chimeric antigen receptor (CAR) T-cell therapy for relapsed or refractory ALL. In a Journal of Clinical Oncology study, MCW investigators aimed to describe outcomes for ALL patients after nonresponse and CD19 relapse, and identify the treatment variables associated with inferior survival.
"We found that survival remains poor for patients who experience nonresponse or relapse following tisagenlecleucel, particularly for those who experienced CD19 (a biomarker for B-cell development) negative relapse," said co-author Amy Moskop, MD, assistant professor, Hematology and Oncology - Pediatrics.
The multi-institutional study retrospectively examined 80 children and young adults with B-cell ALL experiencing nonresponse or relapse after tisagenlecleucel. Dr. Moskop explained the majority of nonresponders had high pre-tisagenlecleucel disease burden, which is associated with worse survival outcomes. Over 90% of patients who showed a positive response six months post-tisagenlecleucel without relapse saw a continued positive response 18 months following CAR T-cell infusion.
"While the patients who relapsed following tisagenlecleucel received a variety of treatments, we discovered that chemotherapy, inotuzumab, and CAR reinfusion were able to help them achieve another remission. This opened the door to additional options for post-tisagenlecleucel relapse therapy."
"Our findings add to the growing body of literature that describes poor outcomes in patients who relapse following CD19 directed CAR T-cell therapy, particularly for those who experience CD19 relapse. Identifying these patients as high risk for nonresponse or relapse to CD19 directed therapy could better inform the sequence of treatment options," said Dr. Moskop.
Julie-An Talano, MD, Medical Director, Pediatric Cellular Therapy and Bone Marrow Transplantation and co-author of the study, explained that the Pediatric Real-World CAR Consortium (PRWCC) recently conducted a retrospective study across 15 centers evaluating 185 patients treated with commercial CD19-CAR. "The results established that overall, real-world survival outcomes parallel prior clinical trial experience," said Dr. Talano, who serves on the PRWCC steering committee.
The Consortium brings together 37 pediatric oncology centers treating patients with commercial CAR T-cell therapy. It permits multidirectional data and sample sharing and has generated extensive output resulting in high-impact publications. "We have participated in this research endeavor to analyze pediatric patients treated with CART 19 and help advance the field," said Dr. Talano. She and Dr. Moskop are currently conducting a study to analyze infections and immune reconstitution of these patients using the PRWCC database.
"ALL is the most common form of leukemia found in children and accounts for nearly 30% of all childhood cancer cases. We hope to expand on our findings in this study and use other PRWCC analyses to improve patient outcomes and overall quality of life," said Dr. Moskop.